Darlow Rosettes
The Digital Print Specialists
Supplying the very best rosettes to the UK and the world for over 30 years
Rosettes you can be proud to award and receive.
We are here to help, so no matter if your event is 10 rosettes or 10,000 rosettes Trust us to make your event amazing
Fresh Ideas
At Darlow Rosettes we are always working on new ideas, and new ways of doing things to keep our designs fresh and exciting.
New rosettes have been added into our every expanding shop. Our new Tartan range looks great, and will no doubt be very popular. Check out our "Placed" rosette packs as new packs have been added with more colour, and re-designed centres. Some great bargains can be found in our Clearance section – you may even find some one off designs as well!
Beautiful new designs will be added into our main ranges as well this spring, especially to our Designer Collection so keep an eye on these.
Its great adding new styles and rosette ranges but somethings don't change as always we strive to offer the best rosettes, at the best prices, with the best service that you will find anywhere. For over 30 years we like to think we have helped many people celebrate their achievements, and created great memories along the way.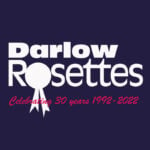 We have a very wide range of rosette styles to choose from.
Choose from 3 different pleat designs,  3 different centre sizes, and between 1 and 4 tiers.
We have something for every event, each rosette can have your own printing and logo, and in your choice of ribbon colours.
Click on the images below to take you to each collection.
Need sashes, trophies, badges, prize cards?
Beautiful sashes, exclusive digitally printed prize cards and badges and lots of lovely trophies. Click on the images below to take you to each collection.
Rosettes
Here at Darlow Rosettes, we offer a wide range of Rosettes to suit all needs. Our top quality Rosettes are the perfect fit for your business or event.
Our unrivalled range of high quality rosettes are beautifully designed, expertly crafted and digitally printed to ensure a premium feel and finish.
The Perfect Rosette for you
Our range of Rosettes are available in four sizers and three pleat designs, giving you the ability to get the perfect rosette for your business/event. And, if you find yourself spoilt for choice, you can always contact us and run through what you're looking for from your rosette and its use, and we will gladly help you choose the right one for you.
We have been supplying high quality rosettes for over 30 years for all types of events, Horse shows, Dog Shows, etc. Contact us today on +44 (0) 1789 459 267 to see how we can help you.