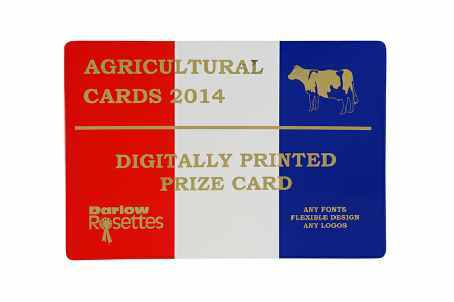 Quite simply the best agricultural prize cards you can buy.
Our heavy weight prize cards are digitally printed and exclusive to Darlow Rosettes.
Outstanding value for money, incredibly versatile and extremely high quality
Compare our prices – you will be amazed by how much we can save you.
Darlow Rosettes lead the world in print technology.
Our investment in digital print capability allows us to be more creative with text, logo's and font than ever before.
Our cards come with a fabulous rich gloss finish and a rounded edge which give a really high-quality feel.
Our design dept will be delighted to show you what we can do. [email protected]
No expensive print plates
No more basic layouts
Re prints are easy
Add class details
20+ colours available
Contact us for price details and samples
Our most popular size is a10" x 7" card in a wide range of single and multi colours, other size available
We also do a mini card of 90mm x 115mm which is a really low cost option for lower placed classes etc